For many individuals, the Infrared grill is considered the perfect solution for grilling today. They do not cook your food through convection, and they use radiant infrared energy that generates high heat fast.
---
Reviews: The Best Infrared Grill
Here are some of our favorite picks in Infrared grills;
We hope you love the products we recommend!
So that you know, We may collect a share of sales or other compensation from the links on this page.

---
The Infrared Grill and How it Works
There are very few meals more difficult t replicate than a perfectly cooked steak, particularly when it comes to the juicy and succulent tenderloin steak. Although it may seem so easy to season a piece of meat and place it on heating for a few minutes on each side, most consumer grills lack one important factor: emitting intense heat that cooks within minutes, which is the case of the Infrared grill.
Infrared Grills or Burners have become the outdoor Microwave for cooking. The Infrared Grill uses a burner that emits 100% infrared energy; the burner is encased under multiple layers of stainless steel emitters that stop airflow and produce manly radiant heat.
So Why Infrared You ask?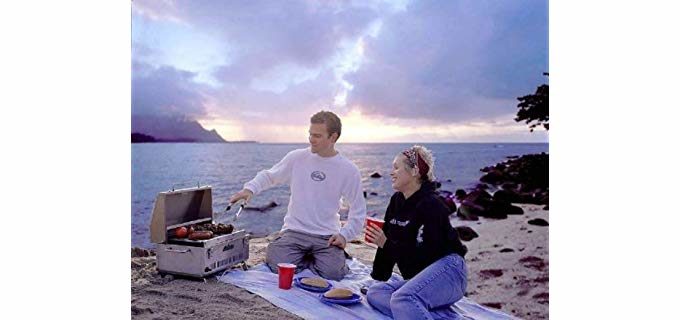 The most basic and important fact about Infrared grills is that they can generate much higher temperatures than any other grill and heat up much faster. On the other hand, Infrared cooking can be very powerful, and while most thicker cuts of meats can hold up to the intense heat, cooking fish and vegetables is not quite recommended on this type of grill.
---
The Benefits of an Infrared Grill
Electrical or Gas Options – The Infrared Grill or Burner is available in either a gas fueled option or an electrically operated option.
Faster Cooking – The Infrared grill attains a very high heat speed and can cook your food in minutes.
Fuel Efficient – Just like an electric indoor grill, an infrared grill heats up and cooks much faster, less fuel and electricity are used, which is more cost-effective.
Better Heat distribution – The Infrared Grill distributes heat evenly and keeps an even temperature with much fewer flare-ups and no cold or hot spots.
Tasty Food – Infrared heat penetrates the moisture barrier and cooks food directly so there is much less moisture loss and food keeps its full flavor.
Temperature Settings – The Infrared Grill gives you the option to set the desired temperature and maintains this temperature. Moreover, we recommend these George foreman grills as they offer temperature controls that allow you to adjust and set temperatures.
Cleaning – The Infrared Grill is much easier to clean and maintain than most other grill types in general.
---
Features of a Good Infrared Grill
Easy Ignition with electrical Push Button.
Cast-iron Porcelain-enameled Grates.
Good temperature control.
Heat reflectors.
---
How We Test and Score Infrared Grills
These reviews are based on intense research, analysis, and feedback from our experts and real users from different digital platforms.
We spent 19 hours trying, testing, and scoring these Infrared Grills, for different key parameters and then shortlisted the best products in the market, saving you time and effort.
We used the following parameters for our tests and analysis.
Preheating – We observed whether preheating can help remove residues from prior use.
Accessibility – We assessed how easy to use the functionality of the grill was.
Reduce Flare-ups – We researched how effectively the grill reduced flare-ups while cooking for safety purposes.
Durability – We researched how long users are able to use these grills without any reported changes in their quality or design.
Non-Stick – We checked how non-sticky the grill was, which made cooking and cleaning much easier.
---
Index Table: Top Rated Infrared Grills
---
---