For many individuals, the Infrared grill is considered the perfect solution for grilling today. They do not cook your food through convection, and they use radiant infrared energy that generates high heat fast.
---
The Infrared Grill and How it Works
There are very few meals more difficult t replicate than a perfectly cooked steak, particularly when it comes to the juicy and succulent tenderloin steak. Although it may seem so easy to season a piece of meat and place it on heating for a few minutes on each side, most consumer grills lack one important factor: emitting intense heat that cooks within minutes, which is the case of the Infrared grill.
Infrared Grills or Burners have become the outdoor Microwave for cooking. The Infrared Grill uses a burner that emits 100% infrared energy; the burner is encased under multiple layers of stainless steel emitters that stop airflow and produce manly radiant heat.
So Why Infrared You ask?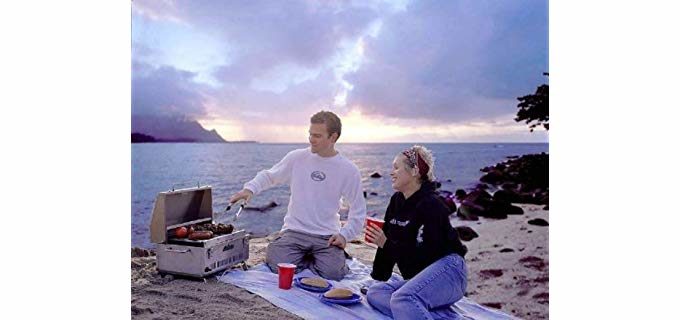 The most basic and important fact about Infrared grills is that they can generate much higher temperatures than any other grill and heat up much faster. On the other hand, Infrared cooking can be very powerful, and while most thicker cuts of meats can hold up with the intense heat, cooking fish and vegetables is not quite recommended on this type of grill.
---
The Benefits of an Infrared Grill
Electrical or Gas Options – The Infrared Grill or Burner is available in either a gas fueled option or an electrically operated option.
Faster Cooking – The Infrared grill attains a very high heat speedy and can cook your food in minutes.
Fuel Efficient – Just like an electric indoor grill, an infrared grill heats up and cooks much faster, less fuel and electricity are used, which is more cost-effective.
Better Heat distribution – The Infrared Grill distributes heat evenly and keeps an even temperature with much fewer flare-ups and no cold or hot spots.
Tasty Food – Infrared heat penetrates the moisture barrier and cooks food directly so there is much less moisture loss and food keeps its full flavor.
Temperature Settings – The Infrared Grill gives you the option to set the desired temperature and maintains this temperature. Moreover, we recommend these George foreman grills as they offer temperature controls that allow you to adjust and set temperatures.
Cleaning – The Infrared Grill is much easier to clean and maintain than most other grill types in general.
---
Features of a Good Infrared Grill
Easy Ignition with electrical Push Button.
Cast-iron Porcelain-enameled Grates.
Good temperature control.
Heat reflectors.
---
Reviews: The Best Infrared Grill
Here are some of our favorite picks in Infrared grills;

---
1
The Char-Broil is an indoor design Infrared grill that is small and compact, easily portable, and has a completely smoke-free design.
Indoor Infrared grill that can cook anything in minutes.
Special reflectors that guide heat.
Non-Stick Grates and grill area, perfect for any type of grilling item.
Easy set up and very easy to clean and maintain.
| Rating Category | Weight % | Score |
| --- | --- | --- |
| Preheating | 25% | 100 |
| Accessibility | 25% | 100 |
| Reduce Flare-ups | 20% | 95 |
| Durability | 15% | 95 |
| Non-Stick | 15% | 90 |
| Total Score | 100% | 96.75 |
---
2
A Family-sized Infrared grill from Char-Broil, one of the most popular names for Grills in general. The Performance Infrared design has three burners and a 450-inch large grate for cooking.
Durable stainless steel finish that won't rust and stay for a very long time.
A TRU-Infrared cooking system that prevents flare-ups and distributes heat evenly.
Large 450 square inch cooking area, ideal for party or picnic.
A reliable and easy-to-use push-start ignition button.
| Rating Category | Weight % | Score |
| --- | --- | --- |
| Preheating | 25% | 100 |
| Accessibility | 25% | 100 |
| Reduce Flare-ups | 20% | 90 |
| Durability | 15% | 95 |
| Non-Stick | 15% | 90 |
| Total Score | 100% | 95.75 |
---
3
The Napoleon comes with wheels for portability, and side panels for food preparation.
Compact 240 square inch cooking space and an 80-inch warming rack.
It uses a TRU-Infrared electrical cooking method for fewer flare-ups and even cooking.
A Porcelain-coated cast iron premium, rust-resistant cooking grate.
Foldable side shelves for food prepping and a storage rack.
Easy to use temperature control knobs.
| Rating Category | Weight % | Score |
| --- | --- | --- |
| Preheating | 25% | 100 |
| Accessibility | 25% | 95 |
| Reduce Flare-ups | 20% | 90 |
| Durability | 15% | 95 |
| Non-Stick | 15% | 90 |
| Total Score | 100% | 94.5 |
---
4
A Smokeless indoor Infrared grill from Simple living will sit neatly on any countertop.
Completely smokeless cooking using Infrared technology.
Special reflectors guide the heat towards the grid for even cooking.
Fewer flare-ups and smoke.
Ideal for indoor cooking.
Keeps a constant and controlled temperature.
---
5
The Char-Broil Signature Design is a Propane Gas-operated and Infrared grill that comes fully equipped with side panels for food preparation, wheels for portability, and a storage cabinet.
A 325 square inch cooking area with porcelain-coated cast-iron grates.
An additional swing-away warming rack.
Surefire electrical ignition system, That ensures a reliable spark.
It can convert into a gas-fuelled and operated grill easily.
---
6
The best option in Infrared grills for camping, picnics, and any other traveling excursions.

A real Infrared ceramic and Stainless steel burner uses an electronic push to ignite button.
Smaller 140 square Inch cooking area on a flavor-enhancing V-Grate.
Lightweight and compact, ideal for apartments and smaller spaces.
Portable and great for camping and both indoor or outdoor use.
---
7
This updated Inferno grill comes in a sleek and slim design.
It is ideal for camping and adventures.
The grill heats up to 1500 degrees F and cooks the perfect steak in two minutes.
It comes with a single Propane gas grill.
---
8
This is a 2-in-1 Infrared Grill System with an easy push-start ignition that starts a fire in a second.
It can be used to make all types of food, including burgers, fish, pizza, and more.
The pizza stone in this Dutton Infrared grill is 11 inches in size.
It reaches up to 1500F in temperature and is dishwasher-friendly.
---
9
This infrared grill features four Stainless Steel main burners that produce 48,000 BTU-per-hour.
It also includes Stainless Steel sear plates that provide even heat with their layered positioning.
The grill offers 500 sq. inches of main cooking space to cater to a big family.
The Napolean Presitge 500 offers a backchannel between burners to allow them to light off each other for convenience.
---
10
This Infrared grill reaches an incredible 1500F in temperature.
It includes 6-notches in the grill rack to allow you to choose the grate's proximity to the heat source.
It allows you to connect any 3/8 inches flare hose to a big propane tank.
The grill comes with a covering for the front panel to keep it clean when in storage.
---
Index Table: Top Rated Infrared Grills
---
---