Some of the links in this post are affiliate links. This means if you click on the link and purchase the item, I will receive an affiliate commission at no extra cost to you. All opinions remain my own.
A gas grill is an excellent choice for both indoor and outdoor cooking.
However, the Gas grill could be quite expensive initially; thus, here we have a few of the best quality Gas grill options for you that are under $500.

---
---
Two Types of Gas Grills
When you are shopping for a new gas grill, you first need to understand the main two grill option that is available and choose which option will work the best for you;
Propane – Most propane grills use Propane Gas or Liquid as a fuel source, which is easily obtainable and not all that expensive. Depending on your burners' size and heat output, you will use more or less propane gas. This is also a convenient and highly portable fuel method for a grill.
Natural Gas – This gas is measured in cubic feet, and one cubic foot of natural gas can provide 1020 Btu's heat energy per hour for your grill. Natural Gas is safer and much less expensive than propane gas.
---
What to Consider in a Good Gas grill
At a budget of $500, you should get a Grill that is in between when it comes to quality VS affordability, and plenty of good quality grill is available at this price.
Here are a few aspects to consider, however;
Warranty – Higher quality grills usually have much better and longer warranties, up to 10 years.
Build Quality – Fancy features usually make a grill Sky Rocket price, and you rarely need them. Therefore a good sturdy build and quality materials are the most important.
Heat Output – Look at a BTU rating of between 80 and 100 per square inch of cooking space in any good Gas grill.
Features – Necessary Features, however, are a good Thermometer, a protective lid, a cover, and an InstaStart ignition button or control knob.
Burners – The Burners are also essential; if you want good quality and durable burner made from cast iron or stainless steel and nothing else, the number of burners will affect your heat output.
Size – The size will depend on the number of people you are catering to; in this case, you will need to look at the size of the grates.
---
Features of a Good Gas Grill Under $500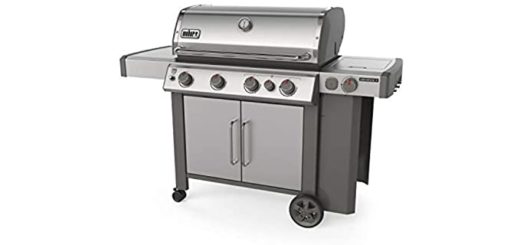 Cast iron or Porcelain Coated Steel grates.
Large cooking space and additional side cooking or warming rack.
Side shelving and tool hangers.
One to Trww burners in the Gas option.
Large and self-cleaning ashtray in the Charcoal grills.
Wheels and stand or tabletop design.
Easy InstaStart Ignition in the Gas Grill Options.
---
How We Test and Score Gas Grill Under $500
These reviews are based on intense research, analysis, and feedback from our experts and real users from different digital platforms.
We spent 21 hours trying, testing, and scoring these Gas Grill Under $500 for different key parameters and then shortlisted the best products in the market, saving you time and effort.
We used the following parameters for our tests and analysis.
Price – We checked the grill's affordability having good quality.
Size and Space – We checked if the grill was compact and portable for easy storage.
Quick Ignition – We checked how quickly and safely the grill could spark a fire.
Rust Resistant – We analyzed how effectively the grill material resists rust.
Durability – We researched how long users can use these grills without any reported changes in their quality or design.
---
Reviews: The Best Gas Grills Under $500
Here are some excellent brands and models in Gas Grill for under $500;
We hope you love the products we recommend!
We may collect a share of sales or other compensation from the links on this page.

---
1
The Coleman Roadtrip is another top brand in a smaller portable model under $500.
This grill offers up to 20 000 BTUs of grilling and 285 square inches of cooking.
There are three independent adjustable burners for enhanced temperature control.
A water pan catches cooking grease and is removable and easy to clean.
The two durable side tables offer a space to rest utensils and sauces.
There is also an integrated thermometer for more accurate temperature monitoring.
The InstaStar ignition button ensures fast and easy ignition without lighters or matches.
This girl is likewise available in 5 colors that you can select from.
| Rating Category | Weight % | Score |
| --- | --- | --- |
| Price | 25% | 100 |
| Size and Space | 25% | 100 |
| Quick Ignition | 20% | 95 |
| Rust Resistant | 20% | 95 |
| Durability | 10% | 90 |
| Total Score | 100% | 97 |
---
2
---
3
Weber is another top brand with a few affordable models; the Genesis 2 is a more advanced Gas Model.
You can choose between natural gas or a Propane Gas option.
A tuck-away warming rack, a large cooking area, and a sear station create an intense heat zone for steering.
Features a BTU per hour input of 9000.
The cooking grates are durable and rustproof steel rods for ample heat retention.
| Rating Category | Weight % | Score |
| --- | --- | --- |
| Price | 25% | 100 |
| Size and Space | 25% | 95 |
| Quick Ignition | 20% | 90 |
| Rust Resistant | 20% | 95 |
| Durability | 10% | 90 |
| Total Score | 100% | 94.75 |
---
4
The Petit Gourmet is a smaller-sized Gas Grill Option under $500.
A compact 160-square-inch cooking space with a porcelain-enameled cooking grate.
A 5500 output BTU burner with a twist start ignition for easy start-up.
It can be used as a freestanding or tabletop grill with a unique design.
Ideal for serving 4 to 6 people at once.
The portable gas grill comes with a small telescopic stand.
---
5
This is a Propane gas grill with stainless steel construction.
The grill includes three separately controlled burners, with 9,000 BTU giving ultimate cooking power and offering even heat distribution.
Its detachable Porcelain-enameled flattop offers 316 Square inches of cooking for cooking family meals.
The grill features a durable control panel with a Piezo Ignition system for convenience.
---
6
The Char-Griller E3001 is another excellent addition to our Gas Grills list for under $500.
The main grilling area has 40800 BTU gas output and 438 square inches of cooking space.
There is also a 192 square-inch warming rack with a 12000 BTU output.
The grill is constructed from premium durable steel and has handy side shelves for food preparation.
Easy electronic ignition and utensil hooks.
The grates are made from durable and rust-resistant cast iron.
This is the ideal Gas grill for larger families and groups.
---
7
This is a gas grill operating on Liquid propane for efficient heating.
It comes with three stainless steel burners, which produce 30,000 BTU per hour.
The grill features an integrated Piezo-electric Ignition system with a quick start-up button working through a push-and-turn control knob.
It also includes a built-in Stainless Steel thermometer on the cover lid for optimum heat control.
---
8
This is a Propane Gas grill designed by Megamaster.
The grill offers 200 square inches of cooking space to allow you to cook family meals at once.
It features two stainless steel burners with a push-and-turn ignition system for convenience.
The grill produces 16,000 BTU of total heat for efficient cooking and heat distribution.
---
9
This is a Blackstone Gas grill measuring 62.50 x 36 x 22 inches.
The grill operates on Propane gas fuel and includes a Propane tank fastener.
It features four independently controlled burners, each producing almost 15,000 BTUs of heat, with a low to high heat control option.
It allows for a flat top grilling surface of 720 Square inches.
---
Index Table: Top Rated Gas Grills Under $500
---
---