Some of the links in this post are affiliate links. This means if you click on the link and purchase the item, I will receive an affiliate commission at no extra cost to you. All opinions remain my own.
If you crave a delicious chargrilled steak but do not have the grill or outdoor space, why not opt for a grill or griddle pan used on your stovetop or a small grill.

---
---
The Non-Stick Grill Pan and Its Benefits
The grill Pan or Griddle Pan is a thick grilling pan with deep troughs and tall peaks on the surface that create char marks and allow fat to render in the grooves, ensuring your food is grilled to perfection.
The Grill marks look appealing, ensure better flavors, and are less fatty. Most Grill pans usually are made from cast iron or nonstick materials with an aluminum base and a heat-resistant wood or plastic handle.
The nonstick grill pan is effortless and creates chargrilled foods with delicious flavors. The grill pan works well with steaks and certain vegetables because this type of pan flashes fries mostly, and these food types respond better to flash frying.
Cooking with a griddle or Grill Pan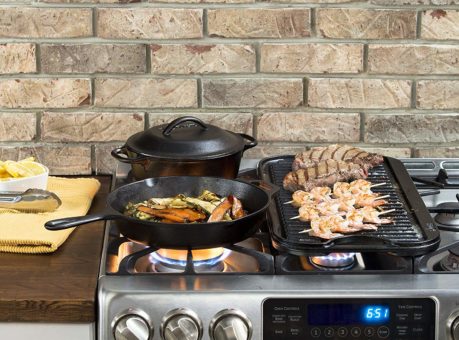 Preheat Pan – Preheat your pan on your selected element, such as the stovetop, a fire, or Grill.
Prepare Foods – Oil your meats and vegetables and cut them into slim slices while you wait for the pan to heat up.
Cooking – Place your foods evenly spread out on the grill pan, and only turn halfway through the cooking process, not every few seconds. Depending on the food size, it should take 2-5 minutes per side. You can also cover the pan, speed up cooking time, and cook more thoroughly.
Remove food – Remove your Food from the pan, careful not to burn, and use utensils carefully to not scratch the pan. Remove the pan from the heat and allow it to cool off.
Cleaning – You can handwash or wipe down your pan, although some models are dishwasher safe.
---
Metal Types for a Non-Stick Grill Pan
Cast Iron – Cast iron consists of a group of iron-carbon alloys with a shallow melting temperature. Cast iron grill pan has a nonstick design, is chemical-free, has a very long lifespan, and adds iron to your food. Cast iron can likewise be used on the stovetop and in the oven and is very easy to clean. This is one of your less expensive and durable options.
Cast Aluminium – Cast Aluminum is a product of molten aluminum poured into a mold to create a cast aluminum that is harder and does not react with alkaline and acidic foods. Cast Aluminium pans are very lightweight and cool quite fast; they can be used in the oven or on a stovetop and are dishwasher-safe and easy to clean. Likewise, cast aluminum pans are better at conducting heat than stainless steel, resist scratching, are durable, rust-resistant, and allow a better nonstick release of food. Cast Aluminium is ideal for most moderate and low heat applications.
Hard Anodized Aluminium – This is an Aluminium with improved heat resistance and corrosion resistance as well as being more hard-wearing
---
Features of a Good Non-Stick Grill Pan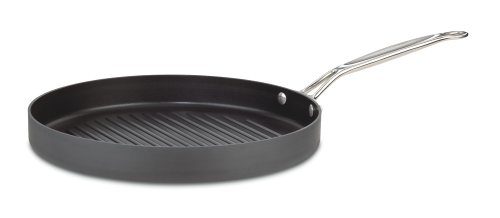 Cast iron grill.
Cast Aluminium grill.
Hard-Anodized Aluminium Grill.
No stick treatment.
Seasoning surface treatment.
Smooth or ridged surface.
Large surface area.
Lightweight design.
Solid and thick.
---
Reviews: The Best Non-Stick Grill Pans
Some of our top favorite Non-Stick Grill Pans are available today;
We hope you love the products we recommend!
So that you know, We may collect a share of sales or other compensation from the links on this page.

---
1
This grill pan comes with a hard-anodized surface that is durable and harder than stainless steel.
It uses a heavy-gauge aluminum core to ensure that heat is distributed evenly and prevents hot spots.
This nonstick-coated pan is designed for exceptional performance and easy cleaning to avoid food residue.
It is dishwasher safe, hand washes recommended, and oven safe up to 500F.
---
2
A 10.5-inch family and entertaining-sized non-stock grill pan from Lodge with an easy Grease design perfect for your barbeque.
Large seasoned Cast iron grill pan with ribs to elevate food from greases and oils.
Seasoned with vegetable oil and no synthetic or chemical coatings added.
Durable and very easy to clean.
It can use in an oven or stovetop, depending on how well you cook the food.
| Rating Category | Weight % | Score |
| --- | --- | --- |
| Pre-Seasoned | 30% | 100 |
| Surface Size | 25% | 95 |
| Thickness | 20% | 100 |
| Versatility | 15% | 90 |
| Low Maintenance | 10% | 90 |
| Total Score | 100% | 96.25 |
---
3
This grill pan has a hard-anodized body for excellent heat conduction, scratch resistance, and durability.
It features a three-layer, PFOA-free nonstick coating that is german engineered.
The sturdy handle is clad with stay-cool, non-slip silicone, so you can use it without getting burned.
It is oven safe up to 390F and only suitable for hand wash.
---
4
The Claphalon Contemporary is a family-sized grilling pan with a durable and long-lasting Hard-Anodized Nonstick grill surface.
A heavy-duty Gauge Aluminium construction pad for easy heating with anodized hard aluminum.
Three layers of nonstick coating for performance and durability.
A long brushed stainless steel handle designed to stay cool.
There are deep ridges on the surface for that authentic grill flavor.
---
5
The Lodge pro Grid Cast iron Grill pan features a reversible side with a Grill side and a smooth side for cooking eggs and other foods that need a flat surface.
A Pro-Grid iron reversible Grill and Zgriddle design with excellent heat retention capabilities and heat distribution.
Already seasoned top nonstick coating, seasoned with vegetable oils.
Heavy-duty, durable pan.
Versatile uses for a variety of foods.
---
6
The All-Clad is a Hard-Anodized Nonstick square grill pan completely dishwasher safe and PFOA Free.
A Nonstick dishwasher safe Hard Anodized aluminum pan.
Fast heating and very easy to clean.
PFOA-free and scratch-resistant coating for healthier cooking.
A contoured stainless steel handle for a comfortable hold and cool handling.
---
7
---
8
This is a non-stick pan designed with ridges.
It is perfect for searing and grilling, with a deep side design to minimize splatters.
The Classic collection pairs nonstick coating pans with a classic blue design, with professional handles, and infused with durable diamonds.
It features a 3x coated nonstick surface that allows for hassle-free cleanup and oil-free cooking.
---
9
Cuisinart is a top brand in quality and elegant cookware; its large nonstick grill pan comes as one piece in various cooking pieces that you can choose from to create your own set.
It has options of different pans and pots to choose from and a griddle pan and grill pan so you can create a set.
Very durable and hard-wearing exterior.
A Quantanium non-stick coating.
The handle features a cool grip design.
A drip-free rim that is tapered for easy pouring and cleaning.
| Rating Category | Weight % | Score |
| --- | --- | --- |
| Pre-Seasoned | 30% | 100 |
| Surface Size | 25% | 95 |
| Thickness | 20% | 95 |
| Versatility | 15% | 90 |
| Low Maintenance | 10% | 90 |
| Total Score | 100% | 95.25 |
---
10
This is a reversible grill that allows cooking meals on either side.
It is a heavy gauge cast aluminum grill to provide even heating on all sides.
The nonstick coating allows food to slide without excessive oil or butter.
This rectangular pan measures 19.5 x 11 inches in size and is big enough to make an entire meal for a family.
---
Index Table: Top Rated Non-Stick Grill Pans
---
---